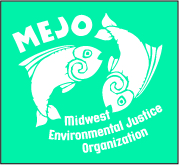 Environmental justice (EJ) means many things. The original definition by the First National People of Color Environmental Leadership Summit is here. USEPA defines it as "the fair treatment and meaningful involvement of all people regardless of race, color, sex, national origin, or income with respect to the development, implementation and enforcement of environmental laws, regulations, and policies."
Toxic pollution impacts everyone, but has disproportionate impacts on lower income people and minorities. These disparities are not being addressed by our institutions or our community as a whole. The Midwest Environmental Justice Organization educates people about environmental injustices in their communities, works to build their capacities to address these issues personally and politically, and collaborates with citizens and organizations to reduce–and stop–toxic pollution.
MEJO works on several environmental injustice issues related to water, air, soil, and food pollution:  contaminated fish, pesticides, surface and groundwater contamination, industrial pollution, and more. We also work with others in creating alternatives that will reduce and prevent pollution—permaculture, organic gardening, rainwater gathering, water conservation, reduced energy consumption, and alternatives to automobiles ( buses, trains, bikes, feet). Ultimately, for those who have the luxury to do so (those who have more than enough food, shelter, etc. to thrive), we think consuming less and slowing down are the most important ways to fight toxic pollution and related environmental injustices.
While we post some information on this website, the bulk of our work is with real people in real time in the community. We meet regularly with citizens to share information, discuss issues, and strategize. Please let us know if you would like to join us in our work—write to info<at>mejo.us