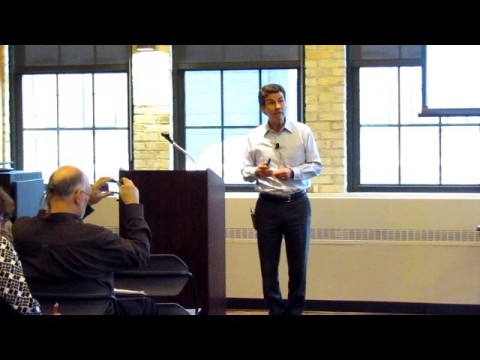 At a March 19 public presentation, the president of Madison-Kipp Corporation described various pollution remediation actions that the aluminum parts manufacturer is belatedly being forced to do by the Wisconsin DNR, as a result of decades of citizen complaints and recent lawsuits. A sparsely attended meeting at the Goodman Community Center, adjacent to Kipp, was the setting for the hour long presentation by its CEO, Tony Koblinski.
Describing the expansive Kipp PCE  pollution plume that extends underground through the Atwood neighborhood, Koblinski assured attendees that over time "Mother Nature, though wounded, begins to take care of it."
About a dozen public officials from various state, county and city agencies sat at tables in the back, but did not speak even once during the meeting (though many of Mr. Koblinski's statements were unsubstantiated by the evidence and/or incorrect). We have never seen a neighborhood meeting to address environmental and human health concerns completely turned over to the polluter, as was done at this meeting. Now we know what it looks like. It was very disturbing.
MEJO videotaped the event, over the objections of Koblinski who apparently has never been to a public meeting (where this is commonplace). Click the links below to watch the video, which is being presented as part of the public record regarding this ongoing saga of a loud and smelly old factory, a century of pollution, and a residential neighborhood.