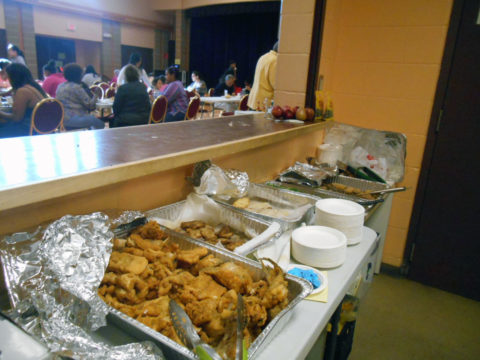 MEJO and the East Madison Community Center held a community fish dinner on September 30 to close out the Center's Hunger Action Month activities and kickoff MEJO's new USEPA-funded Starkweather Creek environmental justice project.  See photos of the event below.
Two hundred fish meals were served at the Saturday afternoon event, held at EMCC in northeast Madison. The theme was the shared tradition of fishing and eating fish, a nutritious, whole food that people around the world enjoy. Types of fish served included fried catfish, pan-fried bluegill (caught that day in Lake Monona!), Hmong tilapia salad, batter-fried tilapia, Lake Superior whitefish and wild rice, and Nigerian baked fish.
Other event supporters (who provided fish, vegetables and equipment) included Willy Street Co-op North, Native Food Network/Mobile Farmers Market, East Madison Monona Rotary, Troy Farm, Kurt Welke and local community gardens.
The event also served as a kickoff for MEJO's new U.S. Environmental Protection Agency grant for its Starkweather Creek environmental justice project to engage residents and subsistence anglers on Madison's northeast side in learning about stormwater pollution and to build their capacities to participate in community decisions about stormwater pollution prevention. Project partners include East Madison Community Center, Northside Planning Council and the UW-Madison Department of Geography (GIS Capstone program).
People might be surprised to learn that the Starkweather Creek drainage basin includes the Sherman Village, Whitetail Ridge, Berkley Oaks and Sherman (partial) neighborhoods, as well as the airport, MATC, Truax neighborhood, East Towne and a large part of the east and northeast sides. The full drainage basin can be seen here.
More information about the project coming soon.
Photos of the Community Fish Dinner are below.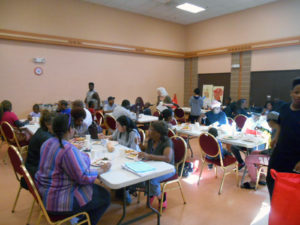 People eating fish together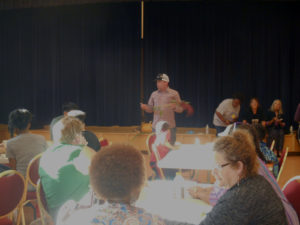 Dan Cornelius of the Native Food Network and Mobile Farmers Market discusses native foods that he grows in Madison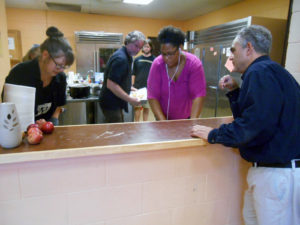 (L-R): Maria, Jim, Eric, Angelina and Ald. David Ahrens prepare food for the community fish dinner