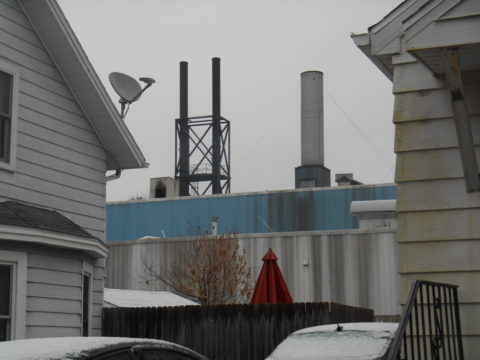 Photo: Madison-Kipp Corporation's die casting and aluminum melting stacks behind homes on Waubesa St.
Today Steve Verburg reported in the Wisconsin State Journal that Madison-Kipp Corporation neighbors plan to set up their own monitors to assess the levels of fine particular matter emitted from the factory, since DNR won't require the company to do so. Fine particulates are extremely harmful to health. Read the full WSJ article here.
Citizens around Kipp have been fighting the factory's air pollution for decades. Read more about this history on the Clean Air Madison and MEJO website–see here, here, and here. 
Also, watch a short "news collage" video about Kipp's pollution problems, put together by Clean Air Madison, here.
Below, plume from Madison Kipp's aluminum melting stacks, at sunrise on November 27, 2017