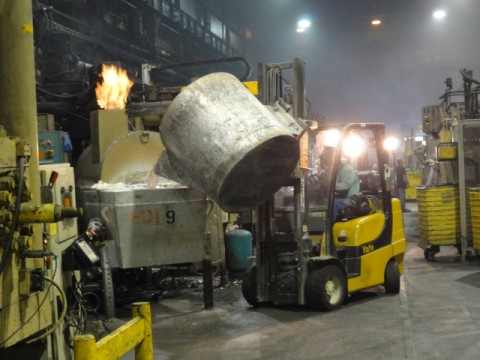 By Steve Verburg, Wisconsin State Journal. (Photo: Inside Madison-Kipp)
Madison-Kipp Corp. has removed one worrisome toxin from the manufacturing plant it operates amid scores of homes along Atwood Avenue, but neighbors say they want more answers about other pollutants.
The machine parts maker sent an email to neighborhood residents last week to say it has stopped using chlorine to treat aluminum, eliminating the danger of a spill of the potentially deadly substance and ending smokestack emissions of certain dangerous breakdown chemicals including dioxin.
"We're pretty excited about it," company environmental and safety director Alina Satkoski said Wednesday. "We know this has been a concern of our neighbors."
Madison-Kipp continues to operate under state permits for emissions of other smokestack pollutants, and cleanups of toxins in soil aren't complete, although company officials say they are getting closer.
Chlorine was used to remove magnesium from 35 million pounds of aluminum the company buys each year and casts into parts for the automotive and other industries.
Madison-Kipp is paying a higher price to buy aluminum with less magnesium content in order to be a better neighbor, and it will continue the practice as long as a steady supply of the material is available, said company president and CEO Tony Koblinski.
"It's hundreds of thousands of dollars annually," Koblinski said. "As long as there is a steady stream we don't give up too much."
The chlorine announcement came as Madison-Kipp continued to work with state and federal regulators on investigations and cleanups of chemical toxins released into the ground during the more than 100 years the company's Waubesa Street plant has operated.
Madison-Kipp is also the target of a 2012 state Department of Justice lawsuit over PCBs, which the U.S. Environmental Protection Agency says probably cause cancer in humans and a variety of other serious health effects in animals. PCBs have been found in very high concentrations as deep as 25 to 30 feet below the company's plant on Waubesa Street, one of three it operates in Dane County.
The company paid $7.2 million to settle lawsuits brought by neighbors after PCE, a likely human carcinogen that is associated with other serious illnesses, and other contaminants spread from the plant and sent vapor into their soil and homes.
But Koblinski has predicted a settlement with DOJ this year, and he said great progress is being made on several fronts.
The company has asked the state Department of Natural Resources for permission to end testing and removal of soil tainted with PCE in the yards of homes along Waubesa Street and soil contaminated with PCBs under the plant parking lot, along the adjacent bike path and in a nearby public rain garden, he said.
Koblinski said he is willing to answer any neighborhood questions. But residents and local officials said they have trouble obtaining information from the DNR.
In particular, there are concerns about efforts to halt the underground PCE plume by pumping it from the ground, treating it and depositing 65,000 gallons a day into Starkweather Creek, a stream that is already listed as impaired by pollutants, said one neighborhood leader, Lance Green.
Confidence in regulators was shaken several years ago by revelations that PCE was in people's homes and more recently when the Madison Water Utility revealed problems in Madison-Kipp studies indicating the PCE plume had stopped well short of a nearby drinking water source, said Green, who serves on the Schenk-Atwood-Starkweather-Yahara Neighborhood Association board and the group's committee on Madison-Kipp as well as the Friends of Starkweather Creek board.
Madison City Council member Marsha Rummel and state Rep. Chris Taylor, D-Madison, tried to arrange a public meeting this week with DNR regulators, public health officials and others to answer residents' questions about the activities.
However, Taylor and Green said DNR staff members told them they were wary because of verbal sparring at such a meeting in 2012.
Taylor said attorneys representing neighbors in the PCE lawsuit, which was still pending at the time, asked questions and that heightened tensions.
Taylor said she offered to screen questions and provide them to the DNR in advance, and Rummel arranged for a professional facilitator to run the meeting.
But the DNR declined, and said it would discuss dates for an "open house" meeting in which residents could talk with officials at individual tables set up for different topics, Taylor said. But that prevents the most knowledgeable neighbors from obtaining answers that everyone can hear, Taylor said.
"They don't want to face the community in a group," Taylor said. "I think it's ridiculous."
DNR spokesman Jim Dick said the meeting was postponed by its organizers and the agency is waiting to hear further details about how and when it may take place.